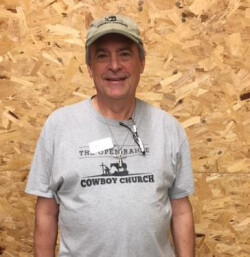 Number of years attending The Cowboy Church: Since 2015
When did you join the Board? September 2016

When did you become a member? Early 2017
Describe your ministry role and why you're passionate about it:
Worship Team Leader - I love singing / playing music, and love the Lord. What a wonderful group of Christian musicians we have on our worship team. What a pleasure it is to bring our brand of Country / Gospel music to our congregation every Sunday.
Describe your family: My wife Trudy and I have two adult children, a boy and a girl.
When is your birthday? August 29

How did you come to faith in Christ:
I came to Christ when I was 17 while attending an old fashion Gospel Tent Revival in Coon Rapids.
What are your hobbies?
Singing and playing music. I ride my horse, Monte, and take care of all the animals on our hobby farm.