Cowboy Church Ministry Update

Published Wednesday, April 1

This update is updated and published every week on our website, e-newsletter, and Facebook page until the Coronavirus pandemic has passed.

THURSDAY, APRIL 2

:
IMPORTANT:
This week our Thursday Bible Studies (listed below) will meet on the ZOOM live video conferencing platform. This will allow us to see and speak with one another online from the safety and comfort of our own homes!
Using a new technology like Zoom for the first time can be scary and frustrating. For this reason, we're providing four steps below that will hopefully make it easier:
Download the Zoom Cloud Meetings App onto your Windows or Apple computer or iOS (Apple) or Android smartphone or tablet. (For best experience, make sure you are downloading the app to a device containing a webcam.)


Contact Linda Penrose at or 612-269-9668 to become a participant in a Bible Study.


Prior to the meeting, you will receive a URL web link (and Meeting ID number) that will direct you to the Zoom Cloud Meetings App.


Shortly before the meeting begins, click the URL link. This will take you to a page that directs you to a button that says: "Join Meeting." This will direct you to the Bible Study. If you're experiencing difficulty, there should be a field that allows you to enter the Meeting ID Number.
You may find it helpful to view a one-minute overview video here. If you are experiencing technical difficulties, please contact Jill Kizer at 763-242-2550.
Thursday Bible Studies:
- 9:00 am: women's bible study (via zoom)
- 6:00 pm: Prayer Meeting: Not meeting this week
- 6:00 pm: pastor joe's bible study (via zoom)
- 7:00 pm: adam englesmeier's Bible Study (VIA ZOOM)

- 8:00 PM: MATT GOERS BIBLE STUDY (VIA ZOOM)
PALM SUNDAY, APRIL 5

:
8:00 - 8:30 AM | BOB RADIO 106.1 FM
LISTEN TO PASTOR JOE ON "TRANSFORMATION SUNDAY"
This week on "Transformation Sunday," Pastor Joe's message will focus on how God measures success in life. Past episodes can be heard on the Cowboy Church website. Go to www.cowboychurch/radio and click the MP3 of the episode you wish to hear.
10:00 AM | OUTDOOR "PARK & WORSHIP" SERVICE
MESSAGE: "JESUS WAS WEEPING"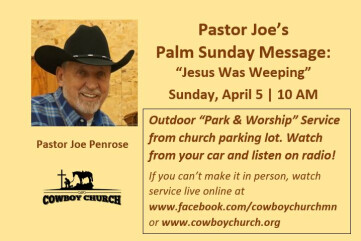 Pastor Joe will be delivering his sermon from an elevated platform in the church parking lot.
The service will be broadcast on a short-range FM radio frequency, so guests can safely and conveniently listen from inside their cars (while practicing social distancing with neighboring cars). Radio frequency will be communicated to guests upon arriving.
Our service will also be broadcast live on our Facebook page (www.facebook.com/cowboychurchmn) and website (www.cowboychurch.org/sermon-archive). If you miss the live broadcast, you can view it later on the church website (use same link).
Children's and Student Ministries will not be meeting
Please remember your faithful commitment to weekly giving is crucially important during these uncertain times. In light of us not meeting for corporate Sunday worship, prayerfully consider using an alternative way to donate your weekly tithes and offerings:
Website (go to www.cowboychurch.org and click the "Donate" button at the top of the home page)
Mail (17525 Highway 65 NE, Ham Lake, MN 55304)
Phone (call the church office at 763-434-5596 and give by credit card)
Mailbox (slip your donation through the slot of our locked, outdoor mailbox located to the left of our side door)
Read Pastor Joe's March 18 congregational letter: "A Message from Pastor Joe Concerning the Coronavirus"
"So we fix our eyes not on what is seen, but on what is unseen, since what is seen is temporary, but what is unseen is eternal" (2 Corinthians 4:18, NIV).