Welcome! Our goal is to help our children become true disciples of Jesus Christ by building relationships with them, being examples for them, and teaching them God's Word.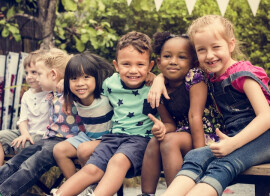 Our Kids' Ranch House School offers two children's classes during the Sunday 10:00 am worship service:
Tumbleweed Nursery Kiddie Kare (ages 1-5)
Kids Buckaroo Sunday School (ages 6-12)
A new class for students will be launching fall 2018!
We partner with parents in teaching kids to know, love, and serve Jesus Christ as they grow on the Trail to Discipleship.
Each Sunday children can dive into God's Word as they are taught a Bible lesson in a fun and age-appropriate way. They are exposed to an array of activities and, most importantly, learn about Jesus and His love for them!
We require background checks on everyone working in the children's area. We encourage you and parents to join our team and help lead little lives to our Savior, Jesus Christ! Parents (men and women) are encouraged to serve our kids and students.
Questions? Contact Amy Sanders at or complete and submit the Contact Us form provided on this page.